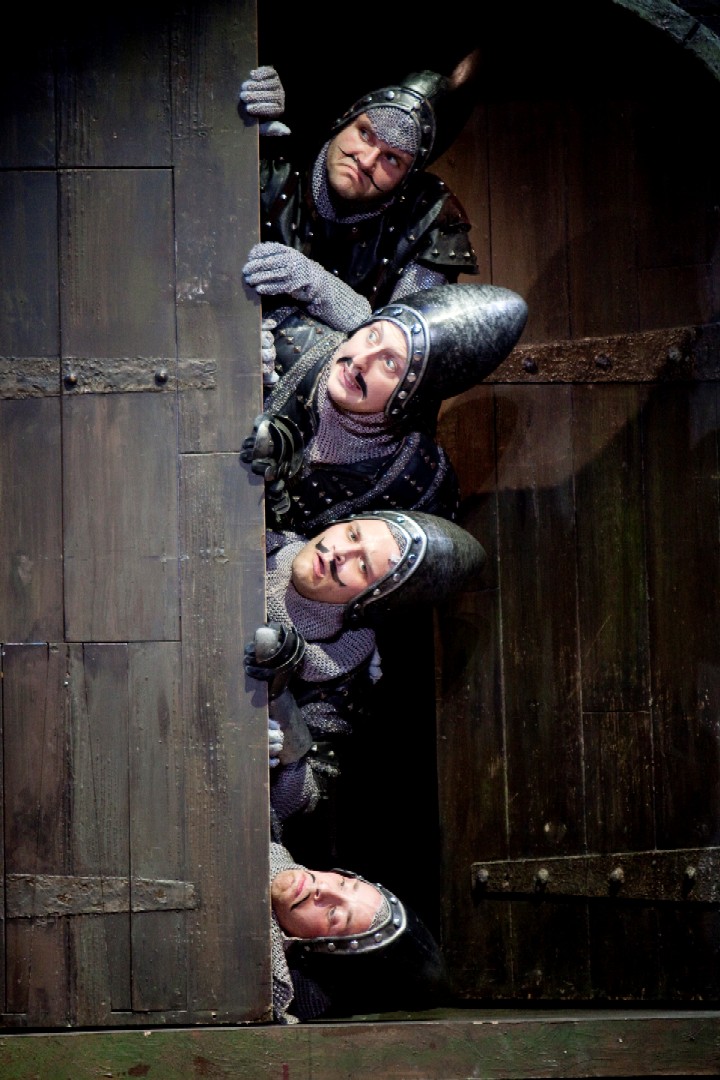 Back by popular demand, Monty Python's Spamalot is the outrageous musical comedy lovingly ripped off from the film classic "Monty Python and the Holy Grail." With music and lyrics by the Grammy Award winning team of Eric Idle and John Du Prez and book by Mr. Idle, Spamalot tells the story of King Arthur and his Knights of the Round Table as they embark on their quest for the Holy Grail. SPAMALOT is presented by Theatre Under The Stars (TUTS) at the Hobby Center from May 14 - 26, 2013. The Hobby Center for the Performing Arts is located at 800 Bagby, Houston Texas 77002. Photo courtesy of Phoenix Entertainment.

THEATRE UNDER THE STARS' 2013 SEASON
THEATRE UNDER THE STARS (TUTS) President and CEO John C. Breckenridge announced TUTS' 2012-2013 Season: From Camelot To Spamalot - A Lot To Love, running October 2012 through June 2013 at the Hobby Center for the Performing Arts. "We're proud to introduce the line-up for our 45th season. From the comedies to the dramas and the family favorites to the reinvented classics, there's going to be a lot to love this season," says Breckenridge.
THEATRE UNDER THE STARS' PAST SEASONS


Mirron Willis (center) stars with Kevin Daugherty and Joy Brunson in RACE. Written by Pulitzer Prize-winning playwright David Mamet and directed by Artistic Director Eileen J. Morris, RACE is showing through June 2nd, 2013 at the Ensemble Theatre located at 3535 Main Street, Houston Texas 77002 USA. For more information, click on www.EnsembleHouston.com
THE ENSEMBLE THEATRE 2012 - 2013 SEASON
THE ENSEMBLE THEATRE Artistic Director, Eileen J. Morris announces the theatre's 2012-2013 season including a variety of comedies, dramas, classic, and musical productions. "We are excited to present a season of intrigue and suspense mixed with a little family fun and nostalgia," says Morris. "Theatre continues to tell stories that bridge our exposure and understanding of the fascinating world around us." Romance and comedy kick off the season in The Nacirema Society by renowned author and playwright Pearl Cleage; A 2010 and 2011 Audience Favorite, The African American Shakespeare Company's Cinderella is back by popular demand for the holidays; Knock Me a Kiss by Charles Smith brings the suspense of a love triangle based on a true story; Knock Me a Kiss takes place during the 1920s in Harlem. The story follows Yolonda DuBois, a woman torn between two lovers. One is a fast-living musician, Jimmy Lunceford, the other a poet, Countee Cullen, sanctioned by her father, activist W.E.B. DuBois. Knock Me a Kiss is showing at the Ensemble Theatre through February 24, 2013. For Tickets and Information, please log onto www.EnsembleHouston.com. Next, a loving family handles its struggles with grace and humor in Broke-ology by Nathan Louis Jackson; In accordance with BROKE-OLOGY - the science of being broke - the King family has learned to balance sacrifice and let love keep them together. Broke-ology is a warm and wrenching play about a loving African-American family facing its troubles with humor, resiliency and grace. BROKE-OLOGY is showing at the Ensemble Theatre through April 14, 2013. The Ensemble Theatre is located at 3535 Main Street, Houston Texas USA 77002.
The Ensemble Theatre explores prejudice and deception in RACE by Pulirzer Prize winning playwright David Mamet. Directed by Artistic Director Eileen J. Morris, RACE will be the theatre's first presentation of a play by David Mamet. "When comparing RACE with sex, the truth can never be revealed about the two things." - David Mamet. A high profile wealthy white businessman is accused of raping a black woman. He seeks counsel from a law firm with an African American partner. The lawyers give their potential client, who claims the sex was consensual, a reality check on the conspiracies of the American legal system, the media, and most of all RACE. But not everything is black and white - or is it? In David Mamet's RACE, the epic comparison between race and sex takes place in the court room; and the season finale musical, From My Hometown conceived by Lee Summers brings the music of Motown to the Apollo theatre for a celebration of brotherhood and pursuing one's dreams. For tickets and information please call phone 713-520-0055. Visit THE ENSEMBLE THEATRE at 3535 Main Street, Houston Texas 77002 USA.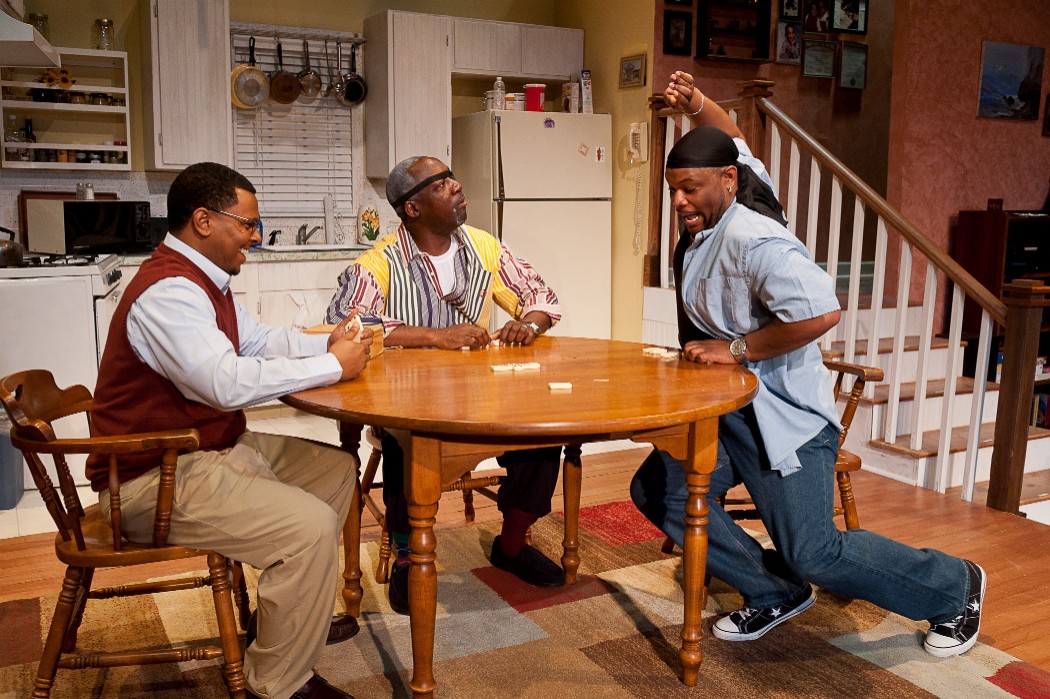 (L-R) Joseph "JoeP" Palmore as Malcom King, Broderick Jones as the father William King and L. D. Green as the oldest son Ennis King. The King family enjoys playing a game of Dominos to pass the time. BROKE-OLOGY is showing through April 14, 2013 at the Ensemble Theatre located at 3535 Main Street, Houston Texas 77002 USA. For more information, click on www.EnsembleHouston.comm
THE ENSEMBLE THEATRE Past Seasons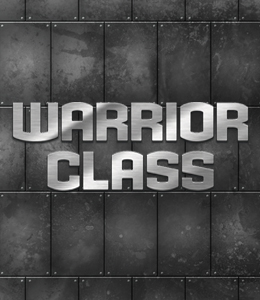 Tony Award-winning and Drama Desk winner THE ELEPHANT MAN is based on the true story of the "elephant man," so-called because of his hideous deformity. Its powerful and moving story chronicles the life of John Merrick, detailing his desperate existence in a Victorian freak show to his days as the toast of London high society. Pomerance weaves Merrick's tale into a parable on beauty, innocence and human dignity. Suitable for most audiences; some mature subject matter and brief nudity. THE ELEPHANT MAN runs from April 12 through May 5, 2013 at the Alley Theatre Hubbard Stage. The Alley Theatre is located at 615 Texas Avenue in the Houston Theatre District. Taking place on April 3rd, 1968, THE MOUNTAINTOP is a gripping re-imagining of events the night before the assassination of civil rights leader Dr. Martin Luther King, Jr. After delivering one of his most memorable speeches, an exhausted Dr. King retires to his room at the Lorraine Motel while a storm rages outside. When a mysterious stranger arrives with some surprising news, King is forced to confront his destiny and his legacy to his people. THE MOUNTAINTOP received the 2010 Olivier Award for Best Play and playwright Katori Hall won the 2011 Susan Smith Blackburn Prize. THE MOUNTAINTOP runs from January 11 through February 3, 2013 at the Alley Theatre. For more information visit www.alleytheatre.org.
Season subscriptions may be purchased at www.alleytheatre.org, by phone at 713-220-5700, or in person at the Alley Theatre Box Office, 615 Texas Avenue Houston Texas.
The powerfully provocative CLYBOURNE PARK, the 2012 Tony Award winner for Best Play and 2011 Pulitzer Prize winner, is the most talked-about show of the 2012 Broadway season and "the funniest play of the year" (London Evening Standard). Called "a spiky and insightful new comedy" by The New York Times and "completely audacious, ingenious entertainment" (Entertainment Weekly), and "superb, elegantly written and hilarious" (The New Yorker). Bruce Norris' Olivier Award winner for Best Play pits Race against Real Estate. Two different generations of characters delicately dance around social politics as a white community in the 1950s splinters over the black family about to move in, and the roles reverse 50 years later with the start of gentrification. The razor-sharp satire explores the evolution of racism and how the date on the calendar may change but perceptions may not. Recommended for mature audiences due to racially charged language. CLYBOURNE PARK starts January 18 and runs through February 17, 2013 at the Alley Theatre. For more information visit www.alleytheatre.org.

(Left to Right) Vito D'Ambrosio as Nathan Berkshire and Nick Maccarone as Julius Weishan Lee in the Alley Theatre's production of Warrior Class. Warrior Class runs on the Alley's Neuhaus Stage May 3 - June 2, 2013. For more information visit www.alleytheatre.org. Photo by Jann Whaley.
ALLEY THEATRE: THE LAST 10 YEARS


"At long last love has arrived.....And I thank God I'm alive!" THE ORIGINAL JERSEY BOYS: Frankie Valli, Bob Gaudio, Tommy DeVito and Nick Massi. JERSEY BOYS is in Houston from March 19 - 31, 2013 at the Hobby Center for the Performing Arts. For more information visit www.broadwayacrossamerica.com
BROADWAY ACROSS AMERICA 2013 SEASON
Broadway Across America - Houston presents the 2013 Season: CATCH ME IF YOU CAN, a new musical based on the popular film from the team behind 'Hairspray'! Based on the hit DreamWorks film and the incredible true story that inspired it, CATCH ME IF YOU CAN is the high-flying, splashy new Broadway musical that tells the story of Frank W. Abagnale, Jr., a teenager who runs away from home in search of the glamorous life. With nothing more than his boyish charm, a big imagination and millions of dollars in forged checks, Frank successfully poses as a pilot, a doctor and a lawyer—living the high life and winning the girl of his dreams. Don't miss this big-hearted musical adventure based on an astonishing real-life story of being young, in love…and in deep, deep trouble! JERSEY BOYS won the 2006 Tony Award for Best Musical. JERSEY BOYS tells the story of how Frankie Valli and The Four Seasons went from being unknown New Jersey kids to international pop superstars. Sister Act – National Tour Broadway's acclaimed musical comedy based on the smash-hit film! Sister Act is Broadway's feel-amazing musical comedy smash! The New York Post calls it "ridiculously fun," and audiences are jumping to their feet in total agreement! Featuring original music by 8-time Oscar® winner Alan Menken (Beauty and the Beast, The Little Mermaid, Little Shop of Horrors), Sister Act tells the story of Deloris Van Cartier, a wannabe diva whose life takes a surprising turn when she witnesses a crime and the cops hide her in the last place anyone would think to look—a convent! Under the suspicious watch of Mother Superior, Deloris helps her fellow sisters find their voices as she unexpectedly rediscovers her own. A sparkling tribute to the universal power of friendship, Sister Act is reason to rejoice! Wicked – National Tour, so much happened before Dorothy dropped in. Visually stunning, Wicked boasts a soaring score from Stephen Schwartz (Godspell, Pippin), Tony Award winning sets and costumes and some of the most gravity-defying moments the Great White Way. Broadway Across America musicals are held at the Hobby Center Sarofim Hall at 800 Bagby Street, Houston Texas, USA.
BROADWAY ACROSS AMERICA - HOUSTON: PAST SEASONS

RECORDING STUDIO (l to r) Michael Lomenda, Nick Cosgrove, Miles Jacoby and John Gardiner. Photo: Jeremy Daniel. JERSEY BOYS runs from March 19 - 31, 2013 at the Hobby Center for the Performing Arts. For more information visit www.broadwayacrossamerica.com


(L-R) Nicholas Lewis, Noel Rodriguez and Nayeli Escamilla perform in LEGENDS OF WIND AND FIRE at Express Childrens Theatre located at 446 Northwest Mall, Houston Texas. Photo courtesy of Express Childrens Theatre.
LEGENDS OF WIND & FIRE at Express Children's Theatre
LEGENDS OF WIND AND FIRE is a bi-lingual (English / Spanish) re-telling of classic Argentinian and Brazilian fables, told by Millartray and Mapu, two rambunctious Native American youth. Together, the spirited cousins take audiences on a journey through the Southern Cone of South America. Transforming into a lively cast of animal characters, to illustrate four myths: How Winter Was Born, The Legend of Treng-Treng and Kai-Kai, Why Penguins Do Not Fly and The Quest for Fire. Rich with culture, music and fun, these classic fables not only satisfy age-old curiosities, but also explore the timeless values of cooperation, sharing, selflessness and the value of friendship. LEGENDS OF WIND AND FIRE runs every Saturday at 2:00pm from April 20 through May 18, 2013 at the Express Childrens Theatre located at 446 Northwest Mall, Houston Texas. For more information visit www.expresstheatre.com or call ph. 713-682-5044.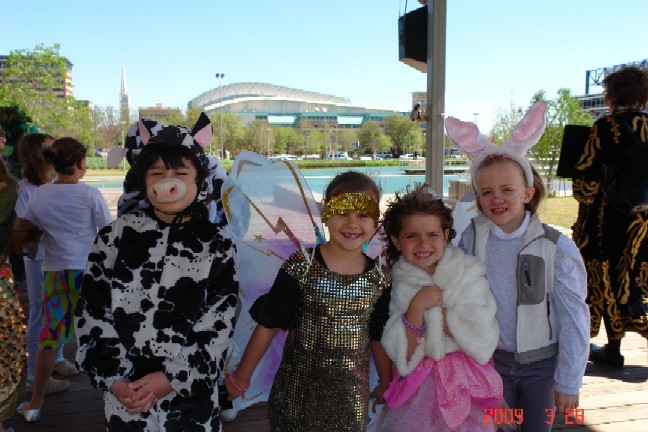 BROTHER TADPOLE: A cow, two fairies and a bunny. Brother Tadpole created by Loreta Kovacic premiered on March 28th, 2009 at Discovery Green Houston, Texas.

BROTHER TADPOLE is a story about friendship and love, ending with a positive resolution of conflict between friends. Written and created by Loreta Kovacic, BROTHER TADPOLE premiered on March 28th, 2009 at the new Discovery Green Park in Downtown Houston. In BROTHER TADPOLE, Mary and Jack are friends (AMIGOS) but they are always quarreling and fighting. Why can't they just get along?!! They come to the magical land inhabited by Cyclops, cute little bunnies and other strange creatures. They become friends with the popular Cyclops Hans and his friend BROTHER TADPOLE. Jack falls in love with the goddess Dama, but she is out of reach. Mary and Jack become better friends to each other. They learn how to live in peace like the two fun loving Cyclops. It's all good in the land of Balvaria.
A rock singer travels to a small Ohio town to make his "farewell" television performance and kiss his biggest fan before he is drafted. Travis High School Theatre Arts Program will present the musical BYE BYE BIRDIE on January 30, 31 & February 6 and 7, 2009. All shows begin at 7 p.m. All performances are in the Travis High School Auditorium located at 11111 Harlem Road, Richmond TX 77406.
Check out THE CHILDREN'S THEATRE Section of HoustonTheatre.com featuring Children's Theatres in the Houston Area. Also featured is Travis High School's Production of GODSPELL presented January, 2008 with Interviews with the Cast and Director of GODSPELL. Also included is YOU'RE A GOOD MAN CHARLIE BROWN Presented February, 2007 with Interviews with the Cast and Director of YOU'RE A GOOD MAN CHARLIE BROWN. Visit one of Houston Theatre's CHILDREN'S THEATRES and Get Swept Away with Magic, Music and Enchanting Stories of Love and Forgiveness. Interview with CINDERELLA with Director and Playwright Laura Weinberg Williams. CINDERELLA was Presented at THE COMPANY ONSTAGE November, 2001.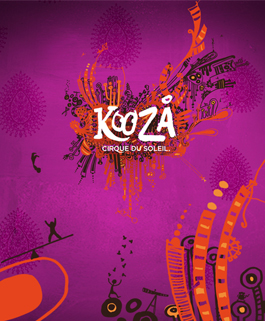 Cirque Du Soleil presents KOOZA from July 26 - August 19, 2012 at Sam Houston Race Park located at 7575 N. Sam Houston Parkway West, Houston Texas USA 77064. For tickets and information please log onto the official Cirque Du Soleil website www.cirquedusoleil.com
The Musical Theater of Houston
THE ART GUYS celebrate their 25th Anniversary by presenting NOTHING TO IT, An Evening of Itty Bitty Witty Ditties on May 3rd, 2008. THE ART GUYS Michael Galbreth and Jack Massing performed Wrap Music, a musical arrangement performed entirely on industrial strength wrapping material and Inverted Karaoke which features the duo singing songs karaoke - style while the audience is unable to hear the music.

CHECK OUT THE THEATRES SECTION OF HOUSTONTHEATRE.COM featuring an archive of Theatres in the general Houston area of the last decade. HoustonTheatre.com has documented special theatre performances from A - Z, from Absolute Theatre to Worldfest (Houston International Film Festival).

2008 Interview with FRANK YOUNG
Founder and Producing Artistic Director of TUTS
TUTS' FOREVER YOUNG GALA April 27, 2007
Theatre Under The Stars' FOREVER YOUNG GALA raises more than $1 million towards TUTS Education and Outreach programs, during its star-studded event held at the Hobby Center for the Performing Arts Friday April 27, 2007.
Chaired by Leticia and Steve Trauber THEATRE UNDER THE STARS' FOREVER YOUNG GALA the evening of April 27, 2007 featured a tribute to TUTS Founder / Producing Artistic Director FRANK M. YOUNG which included Honorary Chairs President and Mrs. George H. W. Bush awarding Young with the American Musical Theatre Award (AMTA) and performances by Broadway and TV stars Debbie Reynolds, Robert Goulet and Austin Miller, among others.



(L-R) Frank M. Young, Barbara Bush and President George H. W. Bush at the Forever Young Gala April 27, 2007 TUTS' Annual Gala at the Hobby Center for the Performing Arts. Photo by PWL Studio.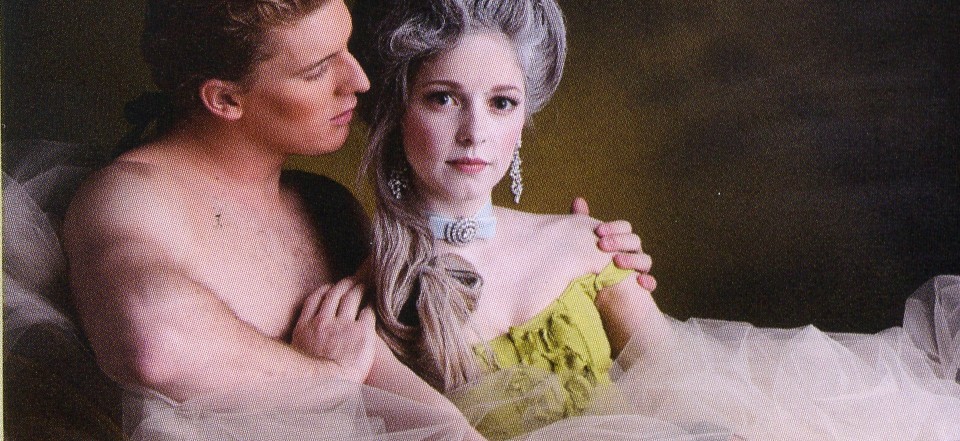 Melody Herrera and Christopher Coomer in the Houston Ballet Production of MARIE presented from February 24th through March 6th, 2011. Stanton Welch's MARIE is a three-act narrative ballet inspired by the life of the legendary French Queen MARIE ANTOINETTE. Hair: Ceron. Makeup: Cynthia Christ and Melissa Sellers. Jewelry: De Beers. Photo: Pam Francis
THE HOUSTON BALLET'S 2010 - 2011 SEASON
"Dance is music made visible."----- Geoge Balanchine. The Houston Ballet's Artistic Director Stanton Welch presents the 2010 - 2011 Season with a Houston Premiere of George Balanchine's JEWELS; an energetic tribute to the music of George Gershwin's THE CORE and a new perspective on the controversial and fascinating life of MARIE ANTOINETTE. "High Theater with all the trimmings." says Dance Magazine in regards to THE SLEEPING BEAUTY, recognized as one of the supreme achievements of classical ballet. THE SLEEPING BEAUTY is an exquisite interpretation of the classic story of good versus evil. RAISING THE BARRE, a world premiere by Finnish-born Jorma Elo, one of the most sought-after choreographers in the US and Europe. "Funny, touching, breathtakingly physical..." says Dance Magazine of THE TAMING OF THE SHREW which pays tribute to the brilliance and wit for which Shakespeare is known. For tickets and subscriptions, call ph. 713-522-5538 or online at www.houstonballet.org.
HOUSTON BALLET: The Last 10 Years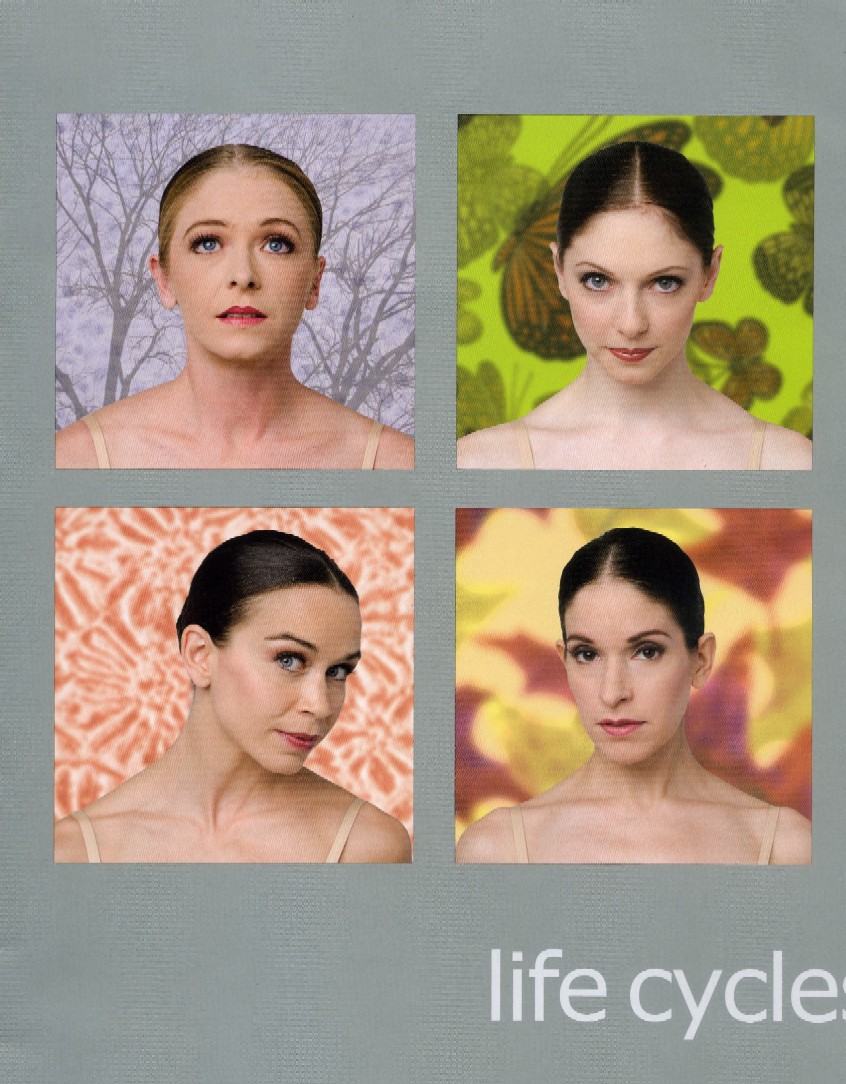 Dancers: Barbara Bears, Melody Herrera, Amy Fote and Mireille Hassenboehler in THE FOUR SEASONS. Photo courtesy of The Houston Ballet.
Interview with a Living Doll AMY FOTE performing as SWANILDA in Houston Ballet's COPPELIA
Listen Up Kiddies! Forget Cinderella Barbie and Lara Croft the Tomb Raider. If you want to have a hard body like AMY FOTE you're going to have to start eating your vegetables every day. Check Out the INTERVIEW WITH AMY FOTE. She stars as SWANILDA in HOUSTON BALLET'S Production of COPPELIA. HOUSTON BALLET and Artistic Director Stanton Welch presents COPPELIA from June 7th through the 17th, 2007 at the Brown Theater of the Wortham Theater Center. Considered the great comedy of classical ballet, COPPELIA tells the story of a doll so enchantingly lifelike that she mesmerizes an entire village, captures the heart of a young swain named Franz, and inspires the eccentric toymaker Dr. Coppelius to attempt to transform her into a living, breathing human being. HOUSTON BALLET'S Production of COPPELIA features breathtaking scenery by Tony Award winner Desmond Heeley, including a picturesque German village and a magical toy workshop whose treasures include a goat, a ballerina and a wizard. For tickets and general information, call 713-227-2787 or click to www.houstonballet.org.


A day at the office for Dobbitt (Jim Parsons) and Merkin (Jerry Miller) in the 1998 Stages Repertory Theatre's production of BELOW THE BELT.
STAGES REPERTORY THEATRE 2009 - 2010 SEASON
On July 16th, 2009 a 36-year old actor named JIM PARSONS was nominated for an Emmy Award for "Outstanding Lead Actor In A Comedy Series." The achievement was mainly due to his Television role as the persnickety physicist SHELDON COOPER on the CBS sitcom The Big Bang Theory. Born and bred in Houston, Texas JIM PARSONS also went to the University of Houston where he was a member of the Pi Kappa Alpha Fraternity. In August 2009, he won the Television Critics Association or TCA award for the highest individual achievements in comedy. But before all these recent accolades, JIM PARSONS starred in the 1998 Stages Repertory Theatre production of BELOW THE BELT. Check out the 1998 interview with NASA Astronaut Trainer and Flight Controller JERRY MILLER entitled "You Don't Have to be a Rocket Scientist...But If You Just Happen To Be One....."

Houston native Jim Parsons' breakout performance as the super-geeky researcher Sheldon Cooper in THE BIG BANG THEORY earned him a 2010 Emmy Award for the Lead Actor in a Comedy Series. Parsons, who at 36 years old, credits his boyish good looks to "growing up in the humidity of Houston." Photo courtesy of www.cjreport.com
STAGES' 1998 Production of BELOW THE BELT starring Jerry Miller and Jim Parsons


Samuel Ramey as Mephistopheles in FAUST. For tickets and general information, please call 713-228-OPERA or 1-800-62-OPERA.





GOUNOD'S FAUST including A Conversation with the Devil (Part II). Interview with the International Superstar Samuel Ramey.



THE HOUSTON GRAND OPERA CREATOR OF HEAVEN AND HELL ON EARTH Announces their 2006 - 2007 SEASON General Director Anthony Freud on the THE HOUSTON GRAND OPERA'S 2006-2007 SEASON'S new productions: "The musical and theatrical range of the season's new productions will, I am sure, delight and stimulate our audiences," says Freud. "The very different fairy-tale world of Hansel and Gretel will be created with specially devised puppets by one of the world's most inventive puppet artists, Basil Twist. La Cenerentola will be fanciful new production by a team that pairs great theatrical flair with technical know-how, a refreshingly human re-telling of the classic fairy tale. The stunning Zandra Rhodes designs for Aïda evoke a magical dream of Egypt in which Verdi's unforgettable score will thrill and captivate." Interview with International Rising Star MARIUSZ KWIECIEN Starring as the Supernova Lover DON GIOVANNI by Wolfgang Amadeus Mozart



THE HOUSTON GRAND OPERA revives its acclaimed Francesca Zambello production of GOUNOD'S French masterpiece FAUST with a stellar cast, led by one of America's most gifted tenors, William Burden (The Coronation of Poppea, 2006) as the man who sells his soul to the devil for a second chance at youth. Burden's FAUST , hailed as "superb…beautiful French, with fine line and glowing tone," (Philadelphia's City Paper), is lured into eternal damnation by Mephistopheles, sung by the incomparable American bass Samuel Ramey (Boris Godunov, 2005) in one of the roles that has made him world famous. Georgian soprano Tamar Iveri makes her house debut as Marguerite, the naïve young woman who falls for FAUST . Her devoted brother Valentin is sung by American baritone Earle Patriarco (The Barber of Seville, 2004). FAUST is presented at the HOUSTON GRAND OPERA's Wortham Theater Center in Downtown Houston, Texas from January 20th - February 3rd, 2007.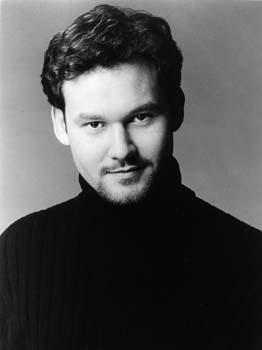 Making his Houston Grand Opera debut Polish Baritone Mariusz Kwiecien is DON GIOVANNI, Mozart's adaptation of the Don Juan story. For tickets and general information, please call 713-228-OPERA or 1-800-62-OPERA.

MOZART'S DON GIOVANNI including an Interview with the World Famous Lover MARIUSZ KWIECIEN

MUSICAL BRIDGES: A Musical Celebration of the 150th Anniversary of the First Polish Settlement in America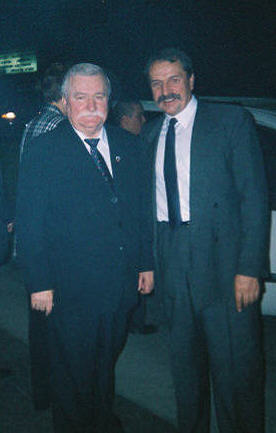 (L-R) Former President of Poland and winner of the Nobel Peace Prize Mr. Lech Walesa and Houston businessman Ryszard Sienko at MUSICAL BRIDGES, the 150th Anniversary of the first Polish Settlement in America, a Musical Celebration October 22, 2004 at the Wortham Theater Center.




Premier Houston Social and Musical Event in 2004: MUSICAL BRIDGES: A MUSICAL CELEBRATION OF THE 150TH ANNIVERSARY OF THE FIRST POLISH SETTLEMENT IN AMERICA held Friday, October 22nd, 2004. With the honorable presence of former President of Poland MR. LECH WALESA, and music by the Acadiana Symphony Orchestra under the musical direction of conductor Mariusz Smolij and guest pianist Adam Golka, the Polish National Alliance (Chicago) and the Polish American Congress - Texas Division and the Houston Polish community celebrated THE 150TH ANNIVERSARY OF PANNA MARIA, TEXAS the birthplace of American Polonia at the Wortham Theater Center in Houston, Texas. Another Polish celebration held March, 2004 was Przechadzki - O Krakowie at the University of St. Thomas Jones Hall.

Check out The HoustonTheatre.com Parties Section where you will find the best musical parties in Houston, including the HOUSTON GRAND OPERA BALL 2001, The Hottest Rock N' Roll Party for THE SUMMER OF 2000 at the Grand Opening of the Hard Rock Cafe at Bayou Place in Downtown Houston, and CHRISTMAS BANQUET 2000, A festive evening of Holiday Fun featuring an interview with A.D. Players Founder and Artistic Director Jeannette Clift George at the Copperfield Baptist Church.


Ryszard Sienko sings the traditional polish song in Przechadzki - O Krakowie, March 27th, 2004 at the University of St. Thomas Jones Hall. Picture by Stan Aponiuk.

The 46th Annual WorldFest-Houston - 10 great days in April: 55 features, 96 shorts, 6 Professional Production Seminars - All film screenings at the AMC Studio 30 at Dunvale Theaters. The Official HQ Hotel - The wonderful Marriott Westchase! Special WorldFest Rates! with rooms starting at just $89 a night! They offer free shuttle bus service to The AMC Theater. The Festival Club is open every night! The WorldFest Professional Production Seminars are Thursday April 18 at 10am and 2pm, Friday, April 19 at 10am and 2pm and Saturday April 20 at 10am and 2pm. Awards Gala Dinner, Sat. April 20th, 2013. Houston Yacht Club/WorldFest Consular Regatta, VIP NASA/Space Center Houston Tour and Texas BBQ on Sunday, April 21, 2013. Y'all Come!
The Annual Houston International Film Festival
Houston Royalty WNBA Champion and Most Valuable Player CYNTHIA COOPER and movie star Omar Epps attended WORLDFEST - HOUSTON INTERNATIONAL FILM FESTIVAL 2000 Opening Night Film LOVE AND BASKETBALL, a movie written and directed by Gina - Prince Bythewood. (Photo by Garrett Ellwood, WNBA Photos)



It is our Passion for the Arts that brings this site to you. Check here often for current listings of plays and reviews showing in the Houston Area.

Contact Theresa Pisula at address: P. O. Box 40965 Houston, Texas 77240 USA or by E-mail: theresa@houstontheatre.com

Art Links Directory